While the entire country geared up for America's Independence holiday celebrating with the 4th of July accoutrement(s) of choice I was being stretched and humbled. My celebratory mode was in the off position and I looked forward to my three day weekend with anticipation rivaling a prison inmate on his last day of confinement. My week was burdened with an extra load of worry and concern for my grown children and the difficulties they were facing. The old me-the one with a proclivity for escapism-wanted to run away and disentangle myself from the manacles of anxiety and fear. The kind of worry that is elicited by a mother's helplessness when she has no control over the pain her children have currently endured. I know it is inevitable and experiencing it is akin to a rite of passage in adulthood ceremoniously heralding their waning youth but it troubles me nonetheless.
I would be lying if I said I spent the holiday weekend reflecting on the meaning of America's Independence day. I couldn't get past my own self-absorption. So I find it ironic (or rather poetic) that I was invited to attend a homeless outreach and take photos. In a providential conversation I had with Laura (an employee at an orthopedic clinic I interact with for my job), I discovered that she performs with a band (www.creationdayband.com) at a homeless outreach held in Calvary Community Church in Fullerton providing food, haircuts, clothes, and showers. She invited me and I accepted without hesitation. I brought no expectations with me except my camera that I lugged around hoping to create images saturated with emotion. Instead, I found myself drenched in overwhelming sentiment as I observed the pure hearts in servitude to the needy and homeless. It was my first homeless outreach and I sensed it wouldn't be my last. It was the sucker punch I needed to free myself from the self-imposed, self-absorbed, and self-inflicted imprisonment of selfishness I languished in. How dare I bitch, moan, and complain about how I can't go shopping for new clothes and shoes (don't count the box of shoes in my trunk, or the closet of shoes, or the racks of shoes I currently have), can't afford a haircut, can't escape on a weekend trip, can't go to concerts, can't go on weekly girls' night out, can't buy books, can't have fun, can't have excitement, and can't eat out at high-end restaurants! Who am I to grumble about my current living situation when I have a roof over my head, a bed adorned with clean sheets to sleep on, and food in the refrigerator?
These were the questions repeatedly piercing my heart as I walked through the outreach watching those who were grateful for the clothing donations, warm food, haircuts, and friendship they were given despite the stigma of homelessness. Was it providence or coincidence that the first person to strike up a conversation with me was a homeless man who was a photographer for 35 years? He approached me because he recognized the lens I was using. "A red ring on that lens means you are serious about your photography." We proceeded to have the most intellectual exchange about Nikon vs. Canon, 16-35mm lens vs. the 70-200mm lens, and film vs. digital cameras. I meant to take a photo of him but never had the chance.
Sadly, I didn't get a chance to strike up too many conversations with the people or the volunteers whose grace I covet. The young people serving food and providing haircuts brought to life the words of serving so often preached from the bible. Their actions became a cohesive movement of service that I could not help but be enthralled. My conversations with God lately have become a total bitchfest (yes, I said it and it's true) about how he MUST send me on a mission trip to a far away land again...like NOW, like SOON, like c'mon already, send me! As I walked the perimeter of the outreach I was deeply ashamed about how my insolence mixed with a tincture of arrogance must smell so putrid to God. For he did exactly as I had asked-he sent me on a mission trip a mere couple of miles away in a little city called Fullerton.
He has shown you, O man, what is good;
And what does the Lord require of you
And to walk humbly with your God?

-Micah 6:8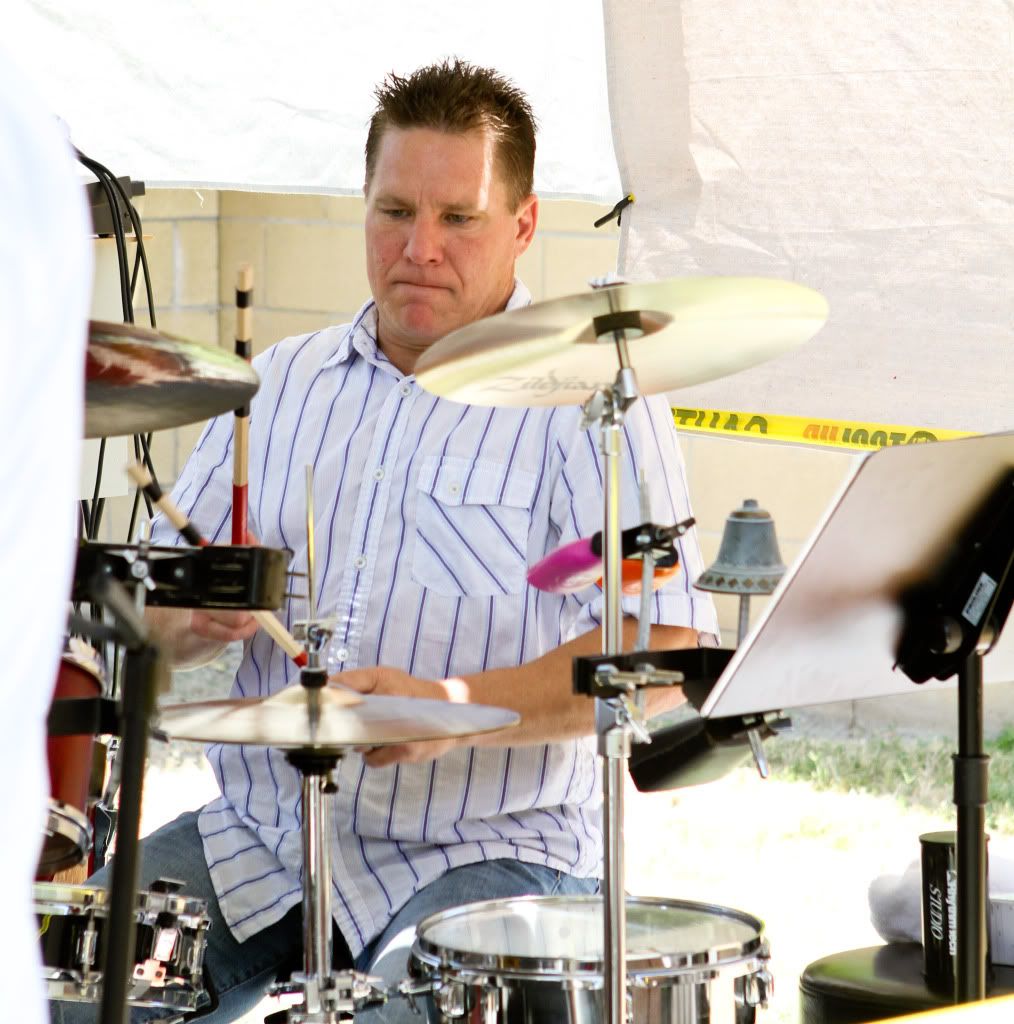 The smiling faces of the volunteers