I am not a morning person. Never was and never will be even after raising 3 babies. I'm not the rise-and-shine-bright-eyed-sing-in-the-shower-embrace-the-morning-with-open-arms-and-a-big-smile kind of person. Far from it. Ray discovered the morning monster I am when we had to share my car after he totaled his truck in an accident. For two months he drove me to work and I thought that was going to be the death of me. Or him. He is non-stop-Mister-Chatty-Patty-laugh-rap-sing-a-long-to-the-radio-at-the-top-of-his-lungs morning person. There were many times during that ten-minute morning ride to work that I had visions of karate-chopping his head out of the window just to shut him up. In turn, he christened me Ms. Grumpy.
When I signed up for Team In Training I knew what I was getting into. The schedule CLEARLY stated that our Saturday morning training began promptly at 7 a.m. which meant I had to give up one day of sleeping in. We are now at week 6 of training and waking up at 6 a.m. on a Saturday morning is still pretty brutal. But this morning as selfish Nannette had a battle of wills with selfless Nannette I realized I had NOTHING, absolutely nothing, to complain about when there were little girls like Celeste and Alyssa undergoing chemotherapy and radiation to battle Leukemia. So I told myself what I always told my kids: Buck up little buddy and shut up! I got my daily grande Pike (my horn-retracting elixir) at Starbucks and headed toward Bolsa Chica beach where we were going to have our first real training, running miles instead of minutes. Long miles. Like five long miles. But who's complaining, right?
Once I join my team my whole attitude changes and within minutes I am on FIRE! I couldn't have asked for a better team and feel incredibly blessed to pound the pavement with them. Of course, I chose THIS day to bring my camera along and document our run. No, not my point-and-shoot camera since I don't own one but my buddy, the Canon! I jogged by Chuck, one of the mentors, and he said, "You know, they DO have smaller cameras!" I managed to run/jog/walk 5.77 miles today as I captured my Team In Training!
Robert, a mentor, leads us in stretches before we run.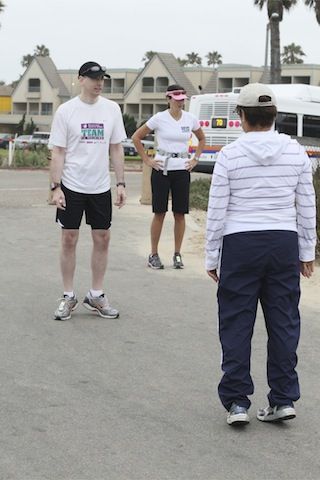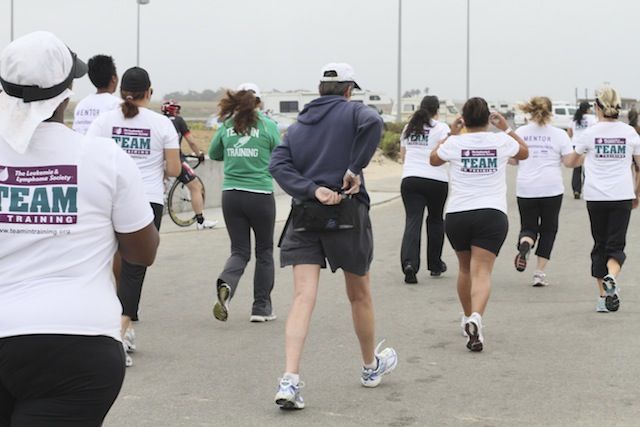 Training at the beach has its perks for the California girl in me, especially one who isn't a morning person. With each mile I am privy to early morning risers, appreciating their surroundings, loving life and living it.
I salute all my teammates, coaches, and mentors who make me feel proud to join them in the race to save lives! Please click on the link below to donate to the Leukemia and Lymphoma Society and help my team and I raise money to end cancer!